Every month, M2GO presents an inspiring, leading figure in the home decor environment and her favorite picks from our online store. This month, discover Myriam Fortier-Brière, interior designer and editor at OLEKA CANVA.
Hello, tell us about yourself and your projects!
I was barely 8 years old when arts came into my life. While I was studying in interior design, I discovered I had a strong interest for manual work. Restoring old furniture was a big revelation to me. From construction project coordinator to kitchen designer, my passion for design continues to evolve. My most favorite project is to create technical and design plans for floating Tiny house. Let's visualize it a bit more… 
What's your style? 
I don't really have a specific style. I always appreciate a unique and creative decor with a touch of eclectic. I am attracted in earthy and downcast colours such as Khaki, beige and burnt orange. To sum up, I like anything that bring us back to the sources and the nature. 
What's your favorite room at home?
Definitely my living room!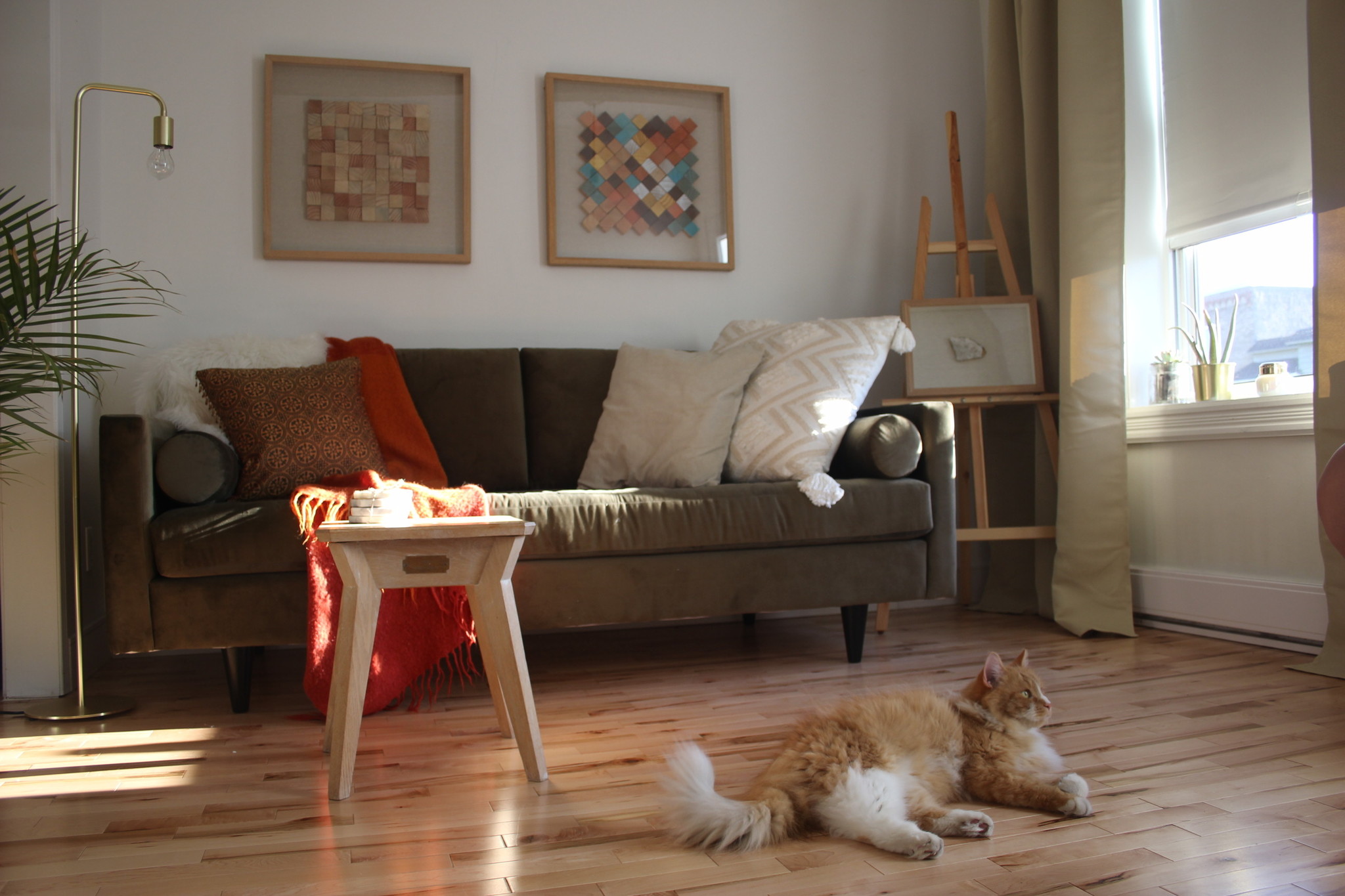 Tell us 3 things about you that people ignore.
Signing is my best keep secret! I am a bit shy when it comes to sing in public. Then there is meditation, my best tool to reconnect with my mind and my body in order to anchor myself well. And finally, on a greedy note, I am a big fan of tacos!
What are your next projects?
I'd like to focus more on my company and put forward my works (3D design services, my paintings and retouched furniture). In addition, I recently started a collaboration with a great Quebec based canvas company called OLEKA CANVA. Collaborating with local businesses is one of my focal points of 2020.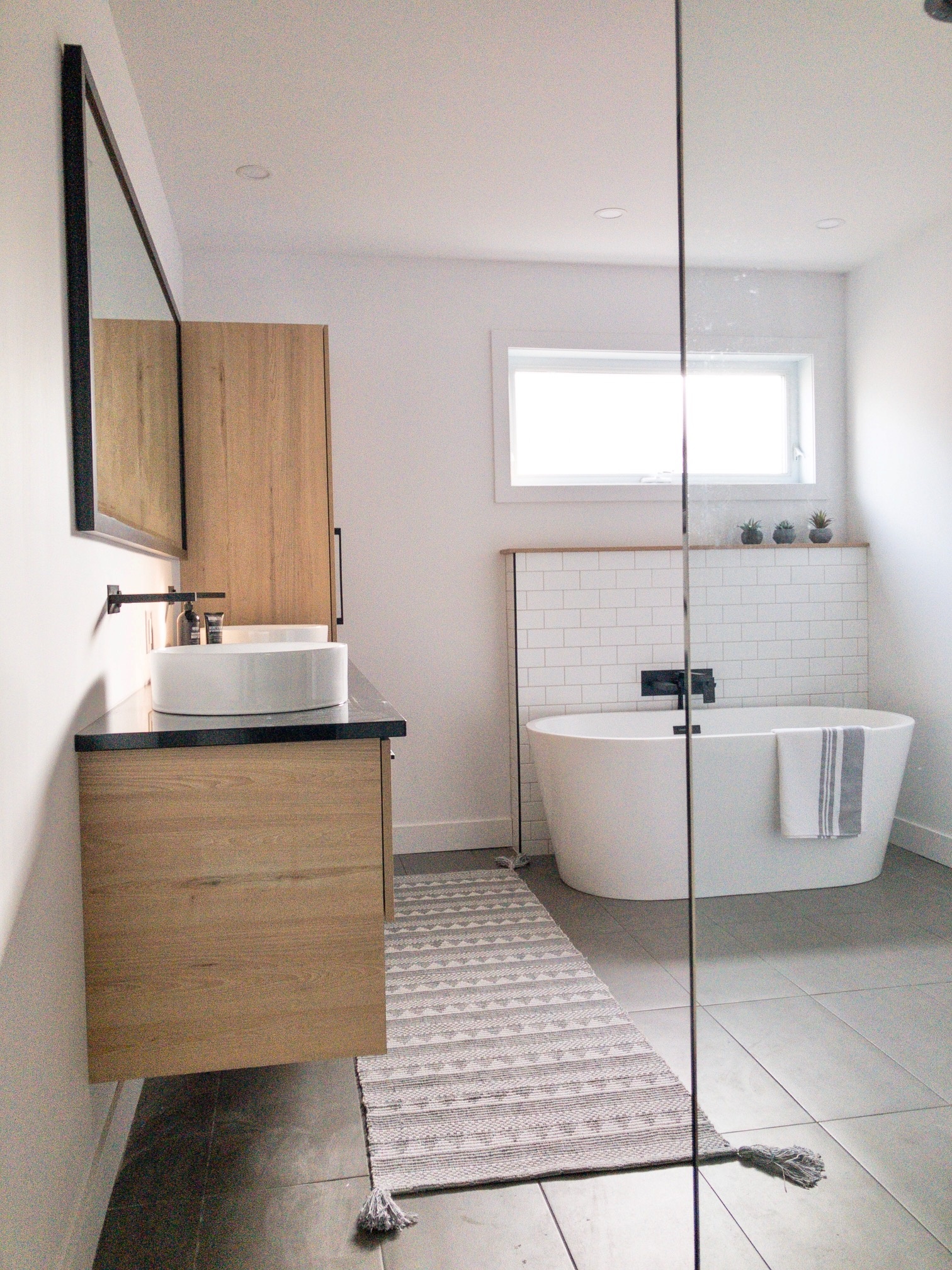 Project carried out by Myriam, summer 2020 
Where do you find your inspiration? 
Obviously, Pinterest is like my best friend! Otherwise, I like to use « Houzz », which is really user friendly and focused only on design.
Top picks from our online store : 
1 - Wood and Cement Arc Floor Lamp
2 - Light grey Sofa, Charles Collection
3 - Cathedral Salmon and Grey Rug
5 - Duluth 5-Shelves Bookcase, Mango Wood and Black Metal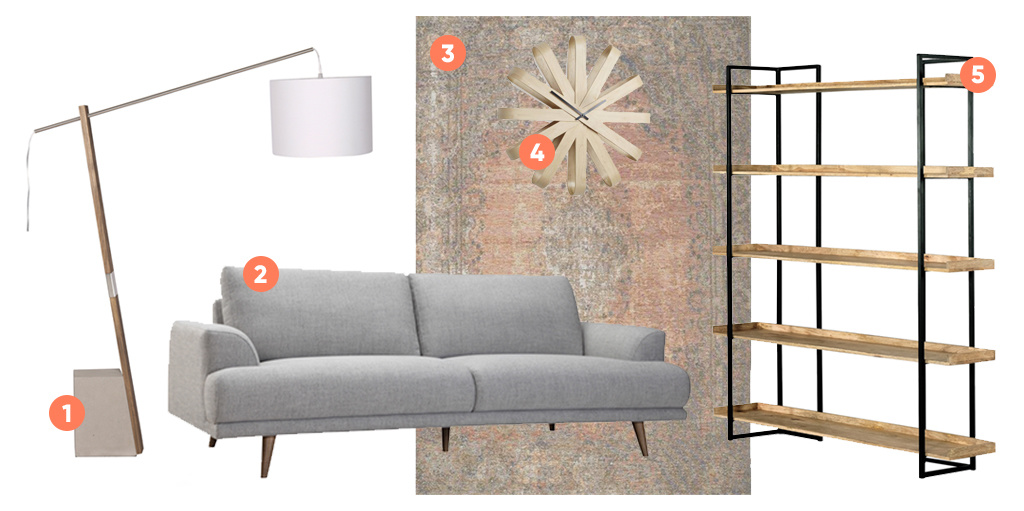 6 - Beso Accent Chair in Brown
8 - Lilo Accent Table, Indian rosewood
9 - Magino Stool
10 - Montana Counter Stool in Rustic Oak