Every month, M2GO presents an inspiring, leading figure in the home decor industry and her favorite picks from our online store. This month, discover Vanessa, interior and graphic designer, entrepreneur and co-founder of the Fleur Maison blog!
Hi Vanessa, tell us about yourself and your projects!
I got my professional studies degree in interior design and visual presentation a few years ago and since then, I'm exploring the decoration world, trying all kinds of stuff. I've been passionate about this since forever and I pinch myself every day to be able to do what I love!
Currently, in addition to a part-time job at a local store, I created a company with my husband, Fleur Maison blog where you can find the local products. I also keep myself busy with residential customers and the renovations of our home. Great collaborations with companies that I love are coming for the next few months and I'm really excited about it.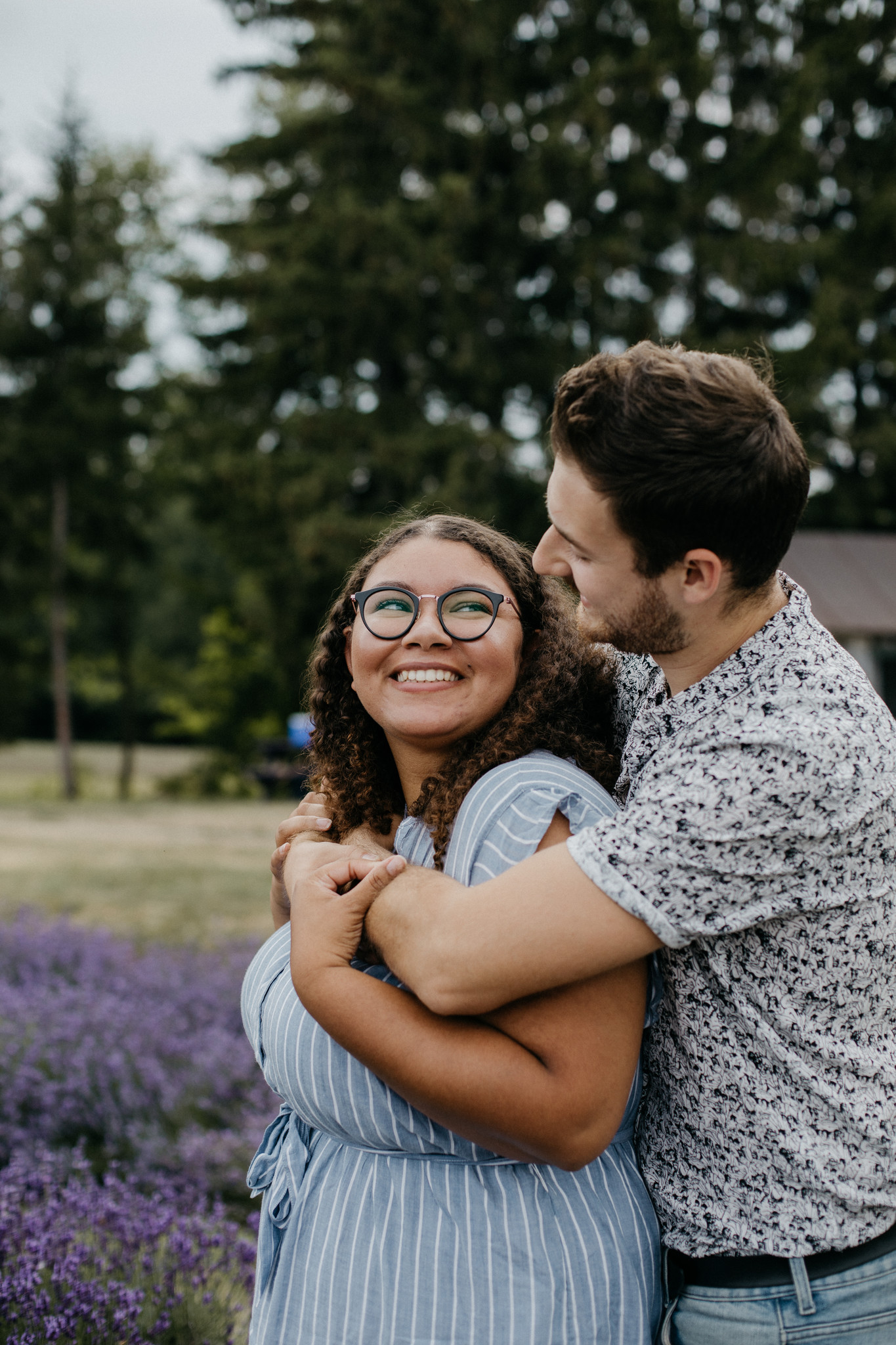 What's your style and where do you find your inspiration?
I would say that my style is a mix of many; sometimes more Scandinavian, sometimes more boho, I let myself be charmed by different styles and objects to create my own universe. I get most of my inspiration from Pinterest! I spend a lot (too much) time on my Pinterest account finding images that I pin on my boards to organize my ideas.
What's your favourite room at home?
My favourite room is the living room! This is where my husband and I spend most of our evenings, cozy on the couch and relaxing after doing a million projects. It's really the heart of our house. We just created a gallery wall and I'm in love with the result.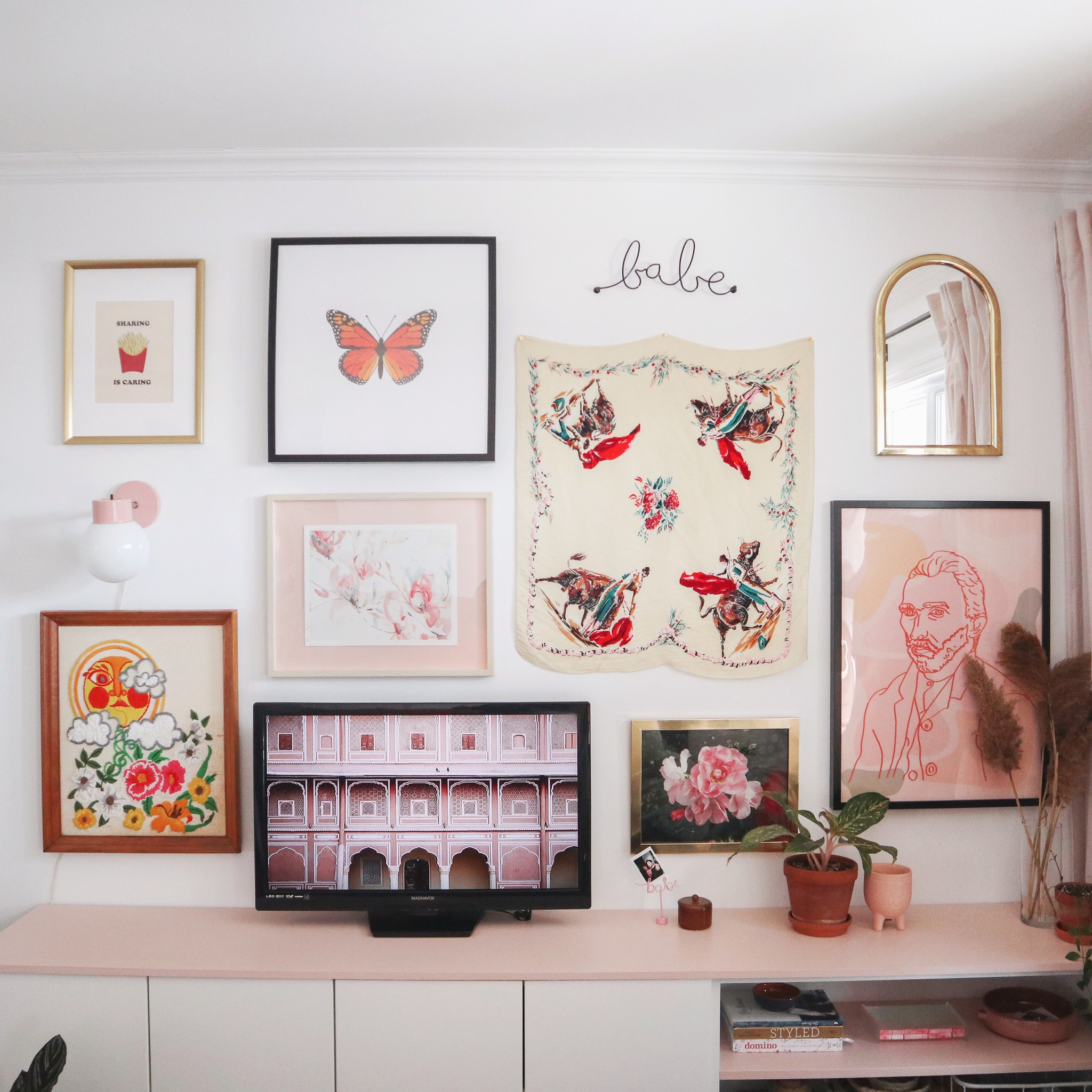 Tell us 3 things about you that people ignore!
- I hate mushrooms! I refuse to eat them and I always remove them from my meals, even the small pieces.
- I do not have a college or university degree. I chose to do a DEP and I am really happy. High school diplomas are often trivialized, but I am extremely proud of my path and where I am now.
- If I had to choose between a dog and a cat, it would be none! I would never want to have a pet at home, although the other people's furry animals don't bother me.
What are your next projects?
Regarding our house, we are currently renovating our entryway, so the result remains to be unveiled. Next step, we will completely redesign our bedroom in April and eventually will come the renovations of the kitchen and the bathroom. On the professional level, beautiful projects are coming up, but they are secrets. We also have a renovation project coming up for a client and we are very excited about it.
Her top picks from our online store: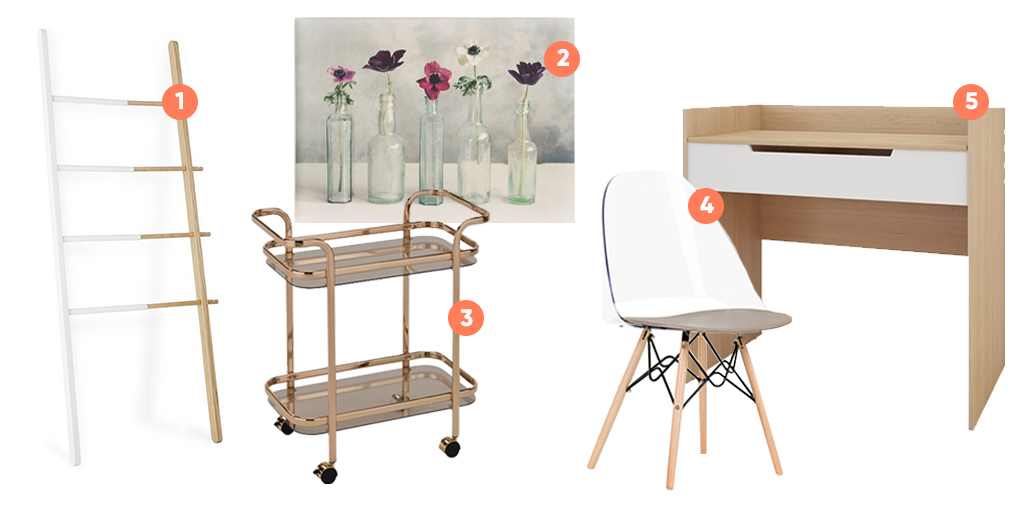 3. Zedd 2-Tier Trolley in Gold
4. Annexe Clear and Gray Office Chair
5. Vanity/Desk, White and Natural Maple, Nordik
6. Accent Chair - 2Pcs Set / Dusty Rose
7. Cathedral Salmon/Grey Traditional Border Rug
8. Xavier Console Table in Light Grey
9. Set of 2 Monochrome Radiance Abstract Handpainted Wall Art
10. Sonata Round Ottoman in blush and gold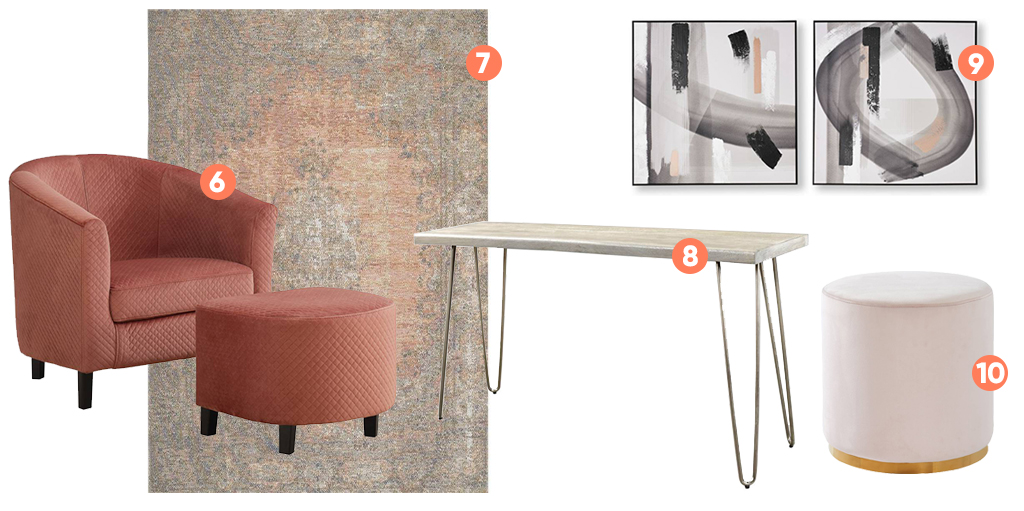 Don't miss out on Vanessa's projects, follow her website, Pinterest, Instagram!