Every month, M2GO presents an inspiring, leading figure in the home decor environment and her favorite picks from our online store. This month, discover Lysanne St-Laurent, interior designer and co-founder of Vives St-Laurent!

Hi Lysanne, tell us about yourself and your projects!
Introduced to design during my Urbanism studies, I quickly understood the limits of the creative portion of the curriculum. This is why my interest in contests such as those set up by La Pépinière Espaces Collectifs has developed organically.
In order to bring together my multiple interests such as graphic presentation and urban design, interior design seemed to be an area that explored the principles of light, the path, the volume while being detailed oriented for the user.
After my studies, I joined the Index-Design team, a media specialized in design and architecture. I discovered the world of publishing and event design that I still love today. This is where I met Laurence with whom I work today, she was a communications project manager. 
What's your style and where do you find your inspiration?
I really like classic pieces like Thonet and Marcel Breuer chairs just to name a few. I have a passion for chairs and I think it's an element that can make a difference in decor. Otherwise, I like the sculptural objects that make a space more organic.
I find my inspiration through photography on creative editorial projects, in fashion, for example. Inspiration also comes with the search of precedents that become the subject of my analyzes. Last summer, I had the chance to visit several works by Montreal architect Roger D'Astous including the Olympic Village and one of his residences located in Salaberry-de-Valleyfield. It was very inspiring!
What's your favorite room at home?
In fact, my favorite piece, we called it LA PIÈCE. This is the heart of my apartment. This room includes the dining room and the reading room. This is where we often discuss projects with my roommate Marc-André who is also a designer and architect in the making. In that room, we can find my favorite piece of furniture, an original mid-century buffet that set the tone to the decor.
Tell us 3 things about you that people ignore!
- I'm always on Instagram. I'm charge of the social media at the Studio. I respond to everyone and I even get up at night to see publications made in other time zones!
- I like to go to work dressed up comfy. 
- I drink more coffee than water. Thank god Laurence is here to watch me!
What are your next projects?
I will speak on behalf of the team saying that we have several projects to come. The goal is to develop the studio here in Montreal but also the Toronto market. Otherwise, we try to specialize our work in office layout, a stimulating field in constant change!
Her top picks from our online store: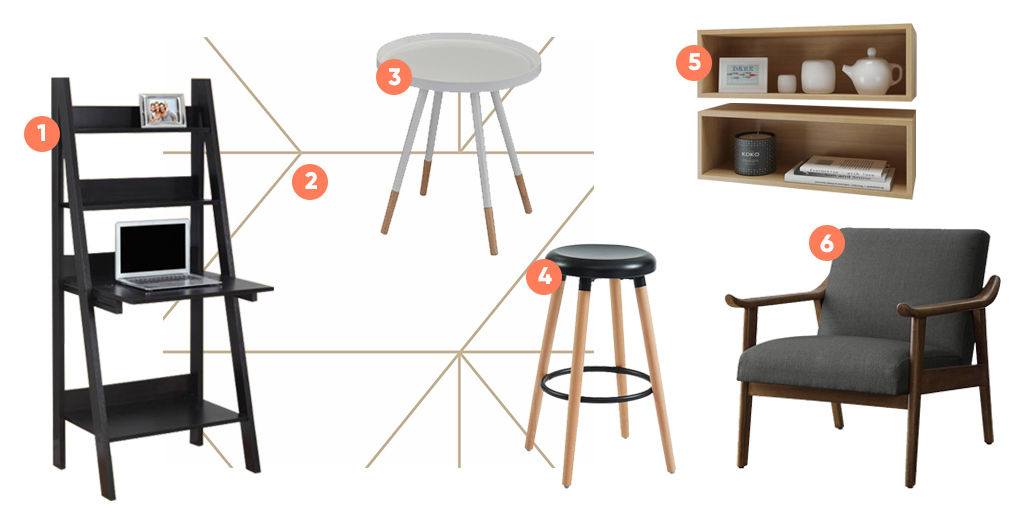 1. Computer Desk - 61"H / Cappuccino Ladder Style
2. Kellys Geo Gold Removable Wallpaper
4. Viva 26" Counter Stool in Natural
5. Chrono Wall Shelves (2), Natural Maple
6. Taylor Accent Chair in Grey
Don't miss out on Lysanne St-Laurent's projects, follow her website, Facebook or Instagram!