Each month, we introduce you to inspiring figures in the field of design. This month, we didn't go very far! Meet Gaëlle, one of the designers at M2GO. Discover her decoration tips as well as her favorites from our online store.
Hi Gaëlle, tell us a bit about yourself and your work at M2GO?
I started my studies in visual arts then went to graphic design and then interior design. I've been drawing since I was a little girl and arts have always been an important part of my life, a way of expressing my creativity and imagination. After several residential and commercial projects, I decided to continue in design with a more visual and computer aspect.
My work at M2GO consists of graphic design, image editing, moodboards, layout creation for the M2GO's south shore space and 3D design.
What's your style and where do you find your inspiration?
I would say it is eclectic, from industrial to Nordic style and going through some classic / mid-century elements. I tend to collect old furniture to restore and then integrate it into more modern decor. Thanks for  decor built with raw materials, white walls and a lot of plants that create a "comfy" and Zen atmosphere.
For my daily dose of inspiration, I use websites like Pinterest, Houzz, Instagram and magazines like IndexDesign and Azure to name a few. 
What brought you into interior design?
When I was a child, I spent most of my time changing the layout of my room (or my parents living room...!) I always had ease to visualize spaces in my head, even before they were created or existed. In addition of growing up in Europe where history and architecture have a major role, interior design is, for me, timeless and artistic. It is also a way to express our tastes and our personality. What brought me into this industry was simple, feeling good at home. This is a field that is constantly evolving and where we are the only creators because we create our own style.
If you had a tip for a successful decor, what would it be?
Don't forget the light! We tend to forget the importance of good light in a room, whether it's natural or artificial. Good lighting brings different moods and ambience to your room. Whether it is to accentuate objects or give a comforting atmosphere to the room, light will make all the difference!
Top picks from our online store: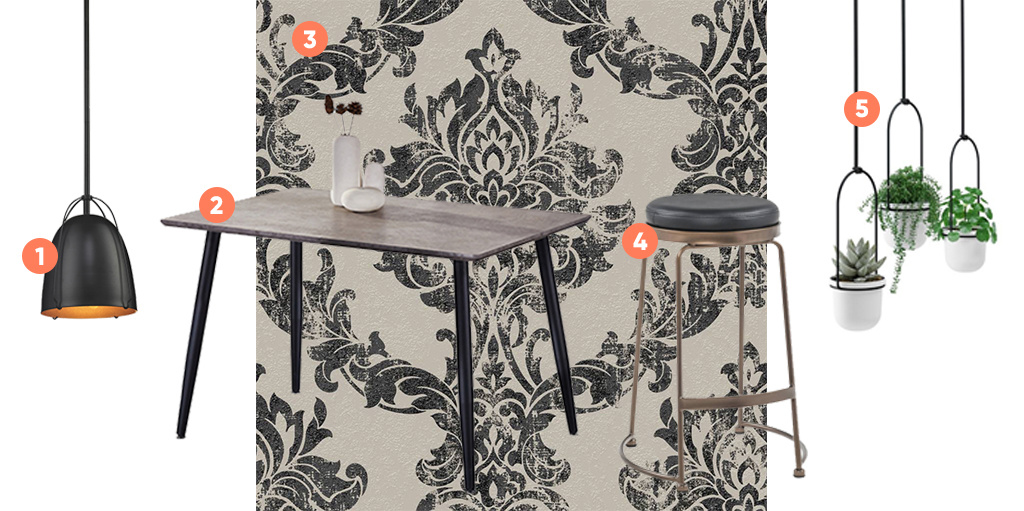 2. Dining Table (31" x 48"), Grey and Black 
3. Opal Damask Charcoal/Gold Wallpaper
4. Alina 26'' Counter Stool in Black
6. Gimetri 5 Fixed Shelves - Shelving Unit-Rustic Bamboo
7. Light grey Sofa, Charles Collection 
8. Alga Coffee Table, White and Walnut Brown