Every month, M2GO presents an inspiring, leading figure in the home decor environment and her favorite picks from our online store. This month, discover Niki Panagiotopoulos, interior designer.


Tell us a bit about yourself and your projects!
I have been very interested in design from a very young age. I remember one of my favourite hobbies as a young girl was to cut out photos of rooms or furniture that inspired me and then put them together on my floor to create my "dream home." I couldn't wait to see how everything would look when put together. I think this may have been an early version of Pinterest! I'm a very creative person. I love poetry, art, music, film and anything that speaks to and uplifts the human spirit. I am especially drawn to beautiful architecture and so I think it was a natural career choice for me to choose interior design.
My main passion is working on residential interiors. I feel privileged to be able to work closely with my clients, and some have even become really good friends. I love the process of helping them bring to life what home really means to them. Home is a feeling and the best part of my job is helping people create a home that reflects the things they cherish and value.
What is your style of decoration and where do you find your inspiration?
My own personal style is more classic contemporary. I am drawn to traditional forms that are not too fussy and beautifully updated either through colour, material or use of fabric. I am inspired by interiors that have the right balance of old and new and that are as comfortable as they are chic.  When I design for clients, however, I really try to listen to their design sensibilities and create a room or a home that reflects their own personal style. The biggest compliment that people give me during an initial consultation is that no two projects look alike.
I find most of my inspiration in nature. Nature always provides the perfect colour palette. I love browsing through Instagram and many design magazines as well.
What is your favourite room at home?
It would have to be my kitchen. I am a Greek Canadian so almost everything we do revolve around good food, family and friends. It really is the heart of our home. I love spending time baking with my two boys and we are always the ones hosting Christmas, Thanksgiving, Easter and almost every other holiday and family celebration throughout the year!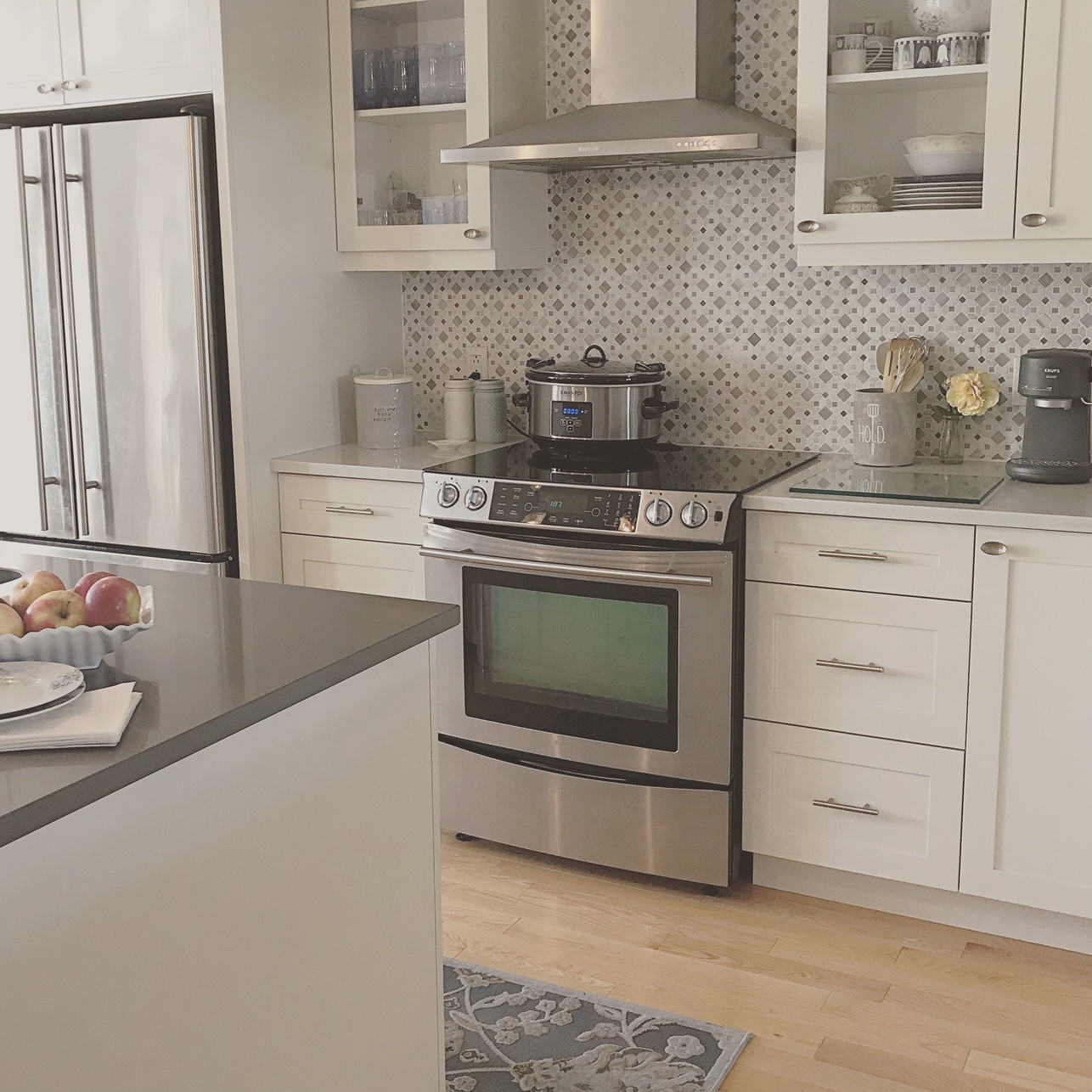 Tell us 3 personal things people don't know about you!
I love horses and the ocean.
I used to skate competitively and coached figure skating for 20 years.
Since becoming a mom, I am always better after a cup of coffee! :P
What are your next projects?
At the moment, I am working on a complete home remodel for a wonderful family. I have many more residential projects coming up that I am excited to start. I have also been working with Mondev Construction, designing some of their model luxury townhouses and condos. They recently asked me to design short-term rental properties as well, which is a new aspect of design for me. I am happy to say that we have used some M2Go furnishings on some of these projects! I have designed some bespoke furniture pieces for clients in the past and am looking into designing a furniture line for non-clients as well. I recently also launched my own online store and would like to further develop this aspect of my business.
Top picks from our online store
1 - Table Lamp Black and Antique Gold & USB Port
2 - Gavin Extension Dining Table, Black
3 - Intrigue Rug
4 - Miranda Accent Chair in Grey
6 - Live-it Cozy Sectional Sofa-Bed with Storage, Gray Fog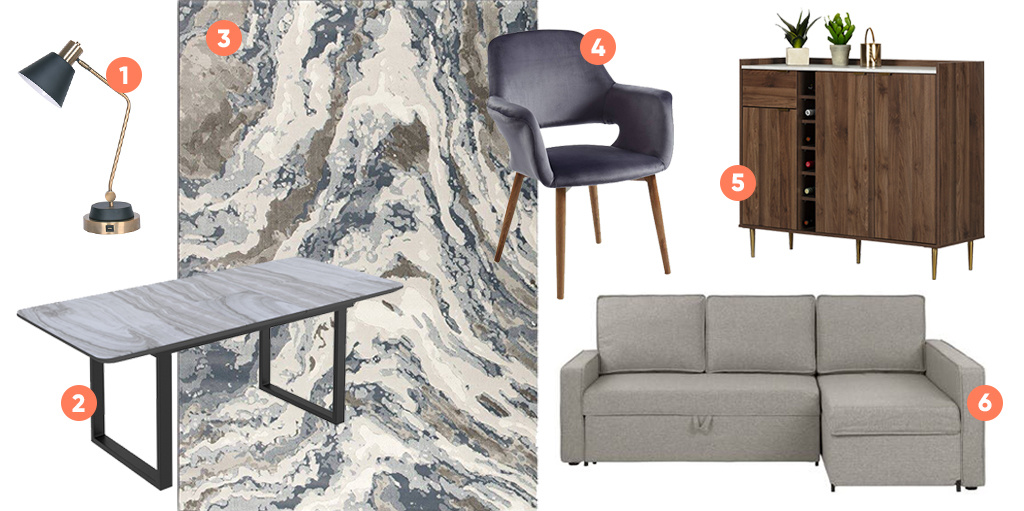 7 - Lino Bed in Blue
10 - Sazena 7-Drawer Double Dresser, Weathered Oak
11 - Intrigue Rug
12 - Elle Accent Chair in Blush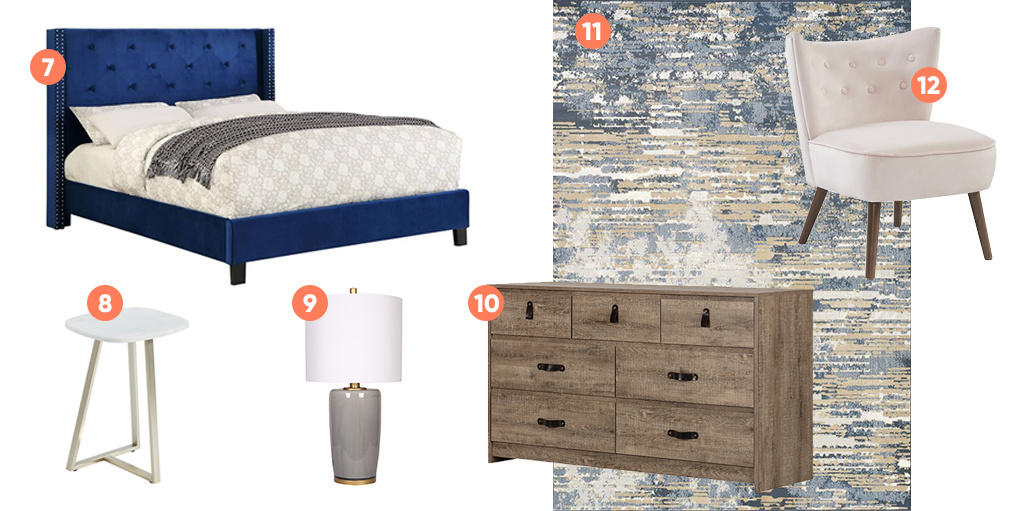 Learn more about Niki